DevLife
Hi everyone!
Today we released new update for DevTycoon - 0.1.345. We focused mainly on fixing bugs and adding smaller features, which however will significantly improve your gameplay experience.
New Features
First of all we've added support for saving and loading currently avaliable commissions and employees. Previously there were randomised each time you hired some new or just loaded the game. Also now commissions have random names that are pulled from database. You also can randomise project name if you don't like the commission one.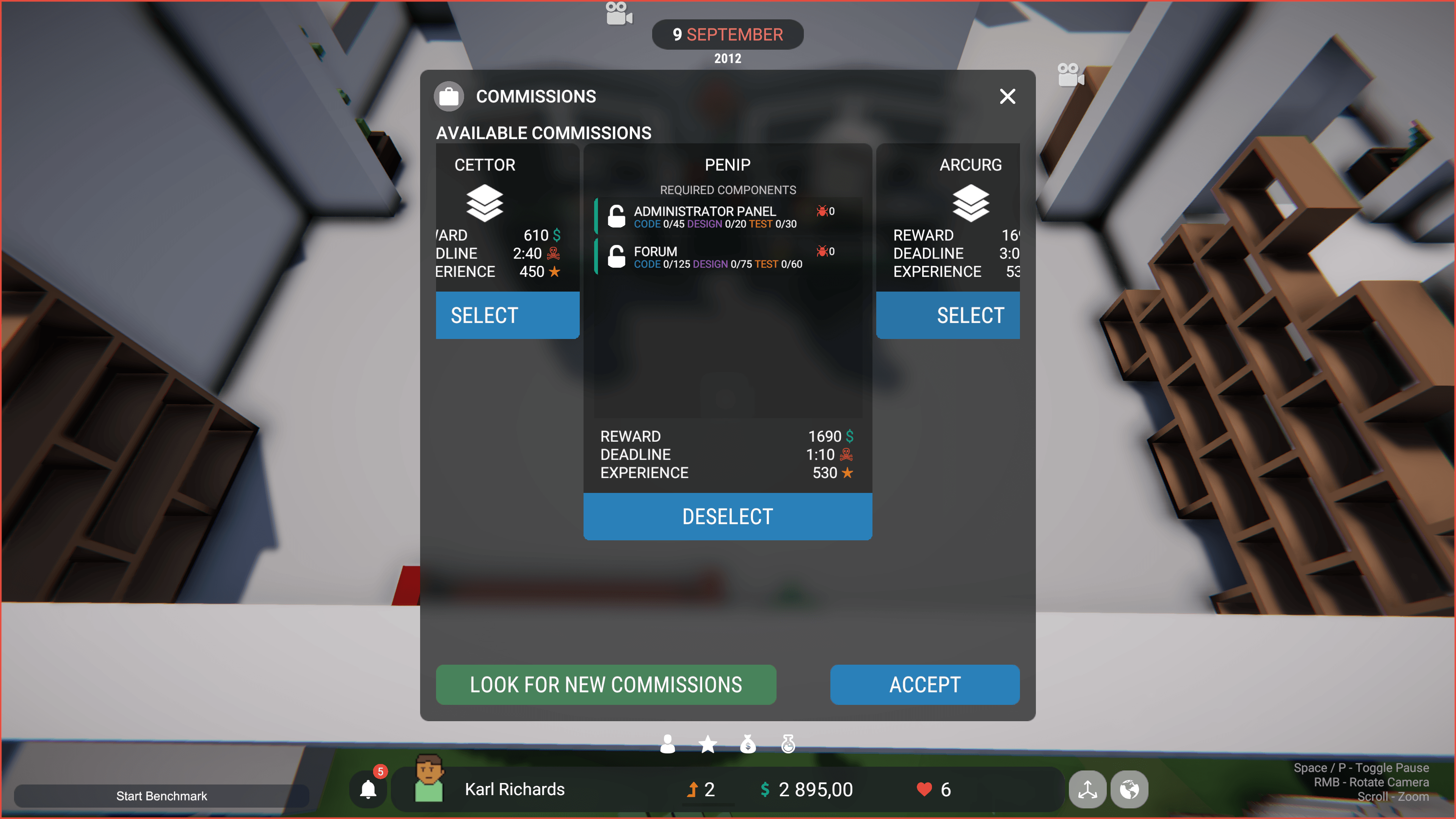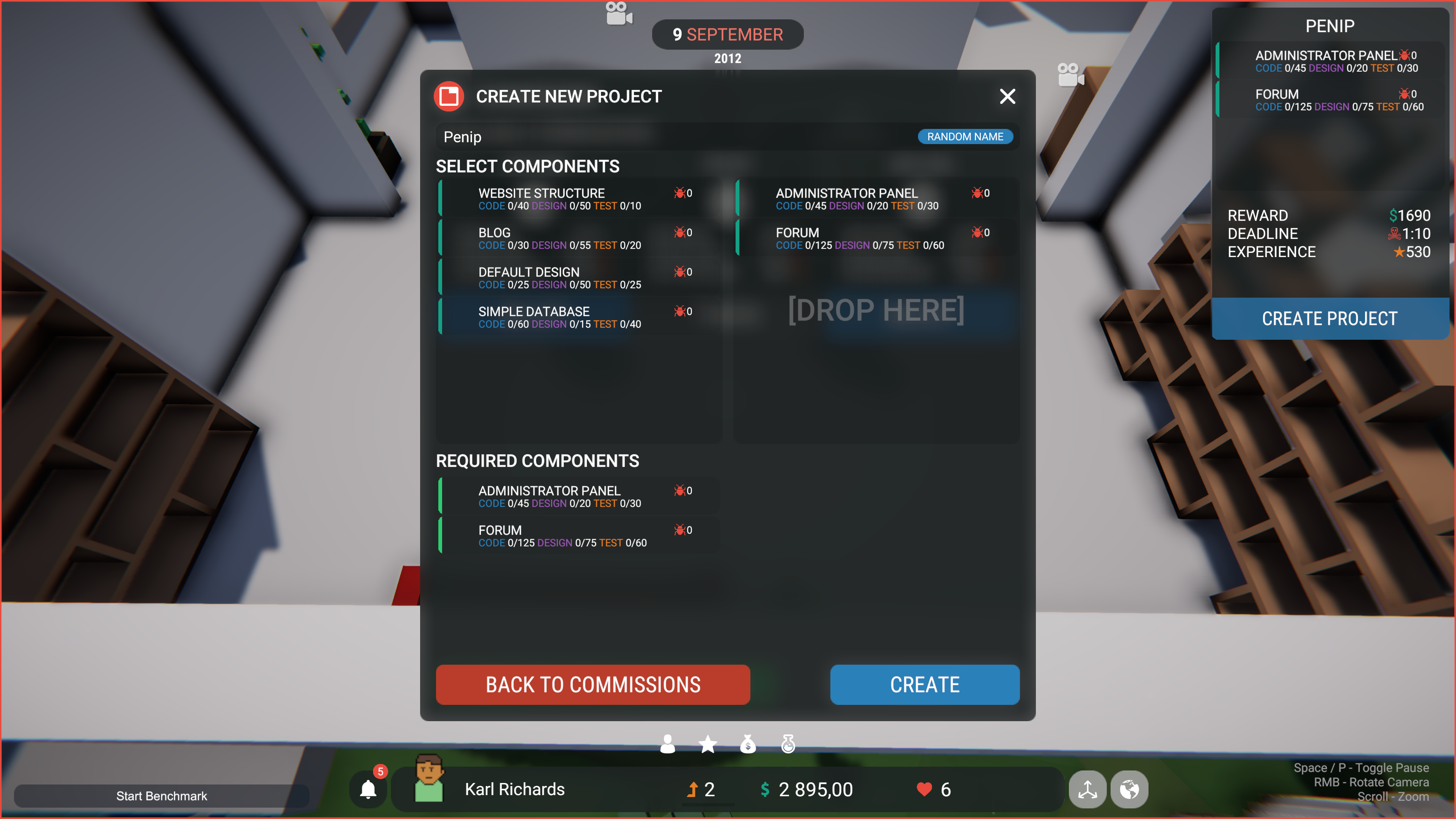 Another new feature is notification categories. Now you can sort them by thier type and it's easier to find one that you are looking for. This is especially useful at the later stage of the game, where there is a lot of notifications and sometimes it was hard to find the proper one. Also we fixed bugs with opening and removing wrong notifications.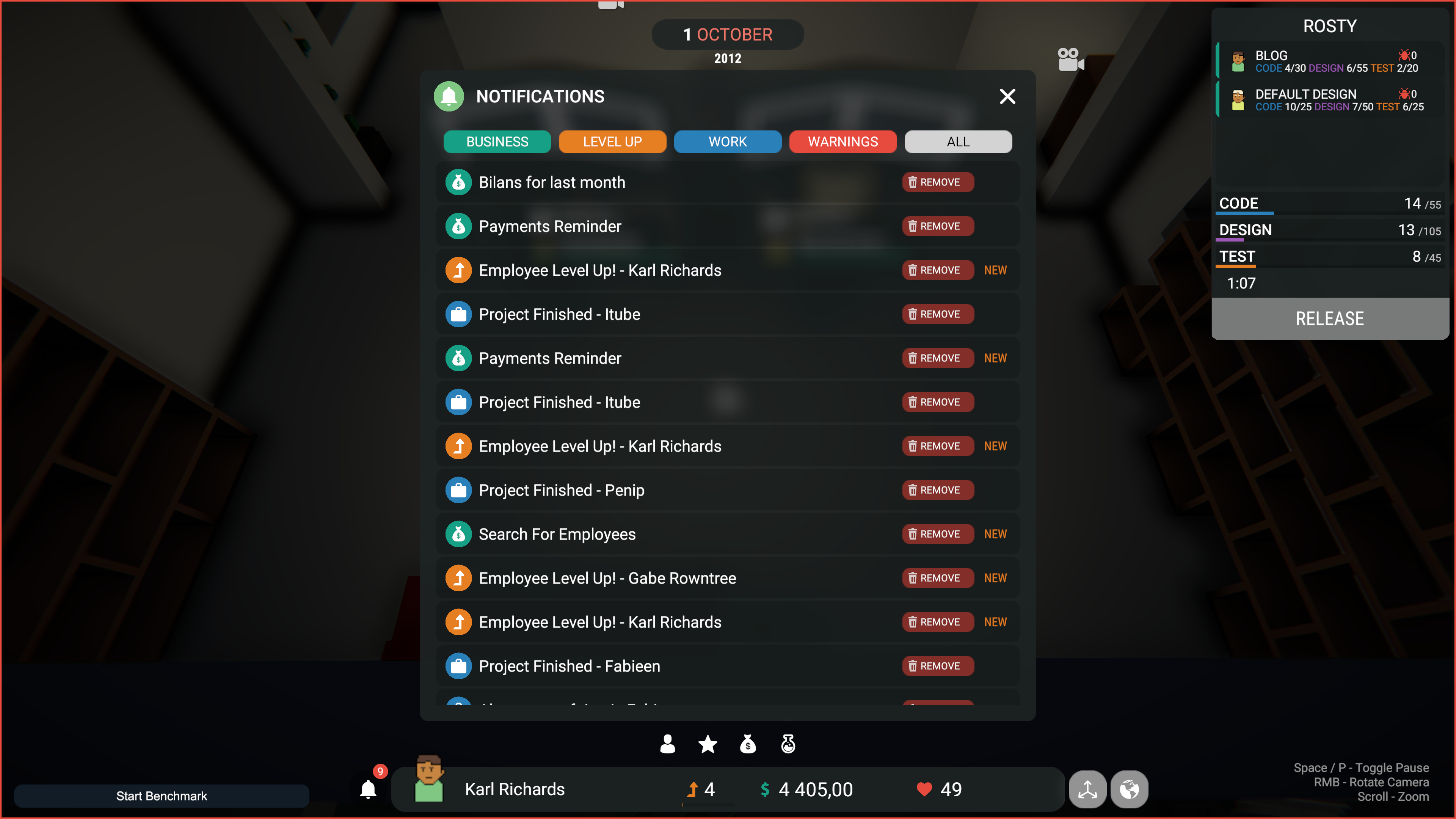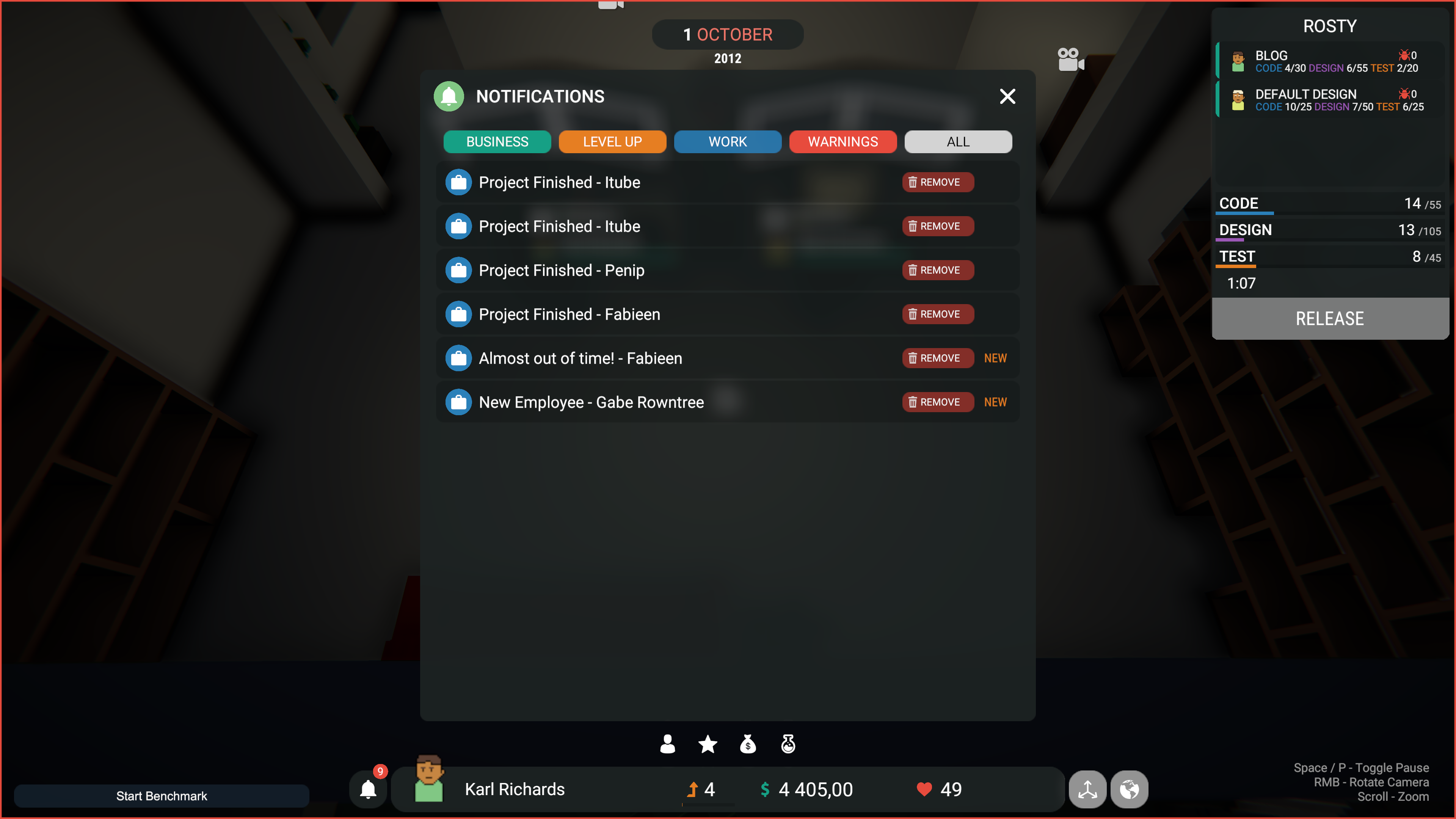 Reworked Balance
We decided to make DevTycoon a little bit harder so we've changed game balance. Now you will get 10% less rewards for commissions and all bills and employees payments were increased by 25%. We hope it will by fine but of course if you have any complaints, pleas let us know in the comments below.
Fixed and know bugs
All bugs with save and load where fixed. The same is with most bugs that occured in previous build of the game. You can see details in changelog within the game or down below. Unfortunately there are still three bugs that we are aware of but we can't find thier source. Luckily they are not serious and occur very rarely in some very specific cases, so if one of these bugs or any other occurred to you, please save the game at this point and send us the save.devtycoon and output_log.txt file.
You can find save file in: %GameFolder%\DevTycoonAlpha_Data\StreamingAssets\
The second file is in: C:\Users\%UserName%\AppData\LocalLow\DevStudio\DevTycoonAlpha\
New Gameplay in Polish
And for those who speaks polish here is over 30 minutes gameplay made by me (Jakub "Roman" Kiryluk) where I showcase this version of the game. By the end you will get to see those three know bugs and also all new features that we've added.
Changelog for this version:
Added support for loading previously randomised components and refreshing them after hiring new employee or loading the game (previously they were randomized each time in order to avoid problems with bad indication of unlocking of components)
Added support for loading previously randomised employees
Added new employee mood modyficator for getting salary for last month
Added notifications categories and sorting
Added random commissions names
Added ability to randomise project name
Added energy uptake from the employee when he is looking for new commissions
Enhanced notification titles to make them easier to recognize from each other.
Reworked game balance:

commissions rewards were decreased by -10%

employees payments were increased by 25%

bills and taxes were increased by 25%

Added Vsync toggle in settings menu
Added Back to Commissions button in Create Project Window
Extended notification text about found new employees to hire
Fixed a bug with corrupting save file after quitting the game (game won't load after quitting application)
Fixed the possibility for an employee to make a component that he didn't unlocked after he was replaced by swapping it with another employee from component who has unlocked both of the components - one he's making and one of the employee on whom he is dragged, while the second one hasn't unlocked the component of the dragged one.
Fixed non-refreshing Continue Button after leaving to the Main Menu on first approach to the game (after leaving to the Main Menu it was impossible to load the game, because the button was not interactable. Only after exiting the game and restarting again it was possible to load the game)
Fixed a bug with opening and removing wrong notification (other than the clicked one)
Fixed a bug with disappearing employee when he was swapped with another employee from his component.
Fixed a bug with a possibility to select an employee who works on a component to search for new commissions (the bug was result of not updating the database for some specific operations of changing the assignment of an employee to a component).
Fixed ability to get negative number of bugs in components
Fixed a bug with no displaying information about lack of available employees who could take care of looking for new commissions.
Fixed blocking pause toggle by shortcut after closing the project creation window, before creating a project.
Fixed a bug with the possibility of dragging two furniture at the same time when dragging one we moved it over the furniture buttons and clicked PPM on other furniture.
Fixed Ambient Occlusion toggle not taking effect in game
Fixed wrong text in notification of hiring new employee
Fixed not showing employees last names in:

notifications (hiring new employee and looking for employees)

Fixed not showing players character name and last name in Employees Panel
Fixed showing Employee Mood text in player character panel where it wasn't supposed to
Fixed higher level skills names
Removed randomising new employees to hire at the end of the month
Removed grass that was penetrating the walls of the first location - Quiet Trees
Know problem with employee stopping his work in some cases even if he is assign to a project (temporary fix is to remove him from his component and then reassign him to his workstation and then to the component)
Know problem with employee sometimes leveling up when he is not supposed to
Know problem with unlocking new components in some specific scenario
Thank you!
We would like to thank you all for buying our game, reporting bugs and sending very kind words. We will continue to work hard with the maximum effort to make this game even better. You can find us on our social media where you can get the latest news and announcements for our games:
DevTycoon Facebook: https://facebook.com/devtycoonofficial/
EarthX Facebook: https://www.facebook.com/earthxgame/
DevStudio Facebook: https://www.facebook.com/realdevstudio/
Files
DevTycoon Alpha 0.1.345
71 MB
Feb 16, 2019